In this exclusive interview, Security Journal UK sits down with Paul Beet, Managing Director at Astra Security Ltd, who were recently recognised for the Outstanding Security Installer Award at the 2021 UK Outstanding Security Performance Awards (OSPAs).
Could you tell us about the services Astra provides?
Here at Astra Security Ltd, we are specialists in providing custom made security solutions. We provide the full end-to-end service, covering design, installation and maintenance of integrated systems. We have a broad range of customers and clients including: major high street retailers; banks; sports clubs and schools. We operate nationally as well as in parts of Europe.
As an NSI Gold accredited company, we ensure all engineers are vetted, helping to facilitate trusted relationships with clients. We are specialists in delivering CCTV, access control, remote monitoring and retail tagging systems. And, on top of that, we have specialist capabilities, delivering sport view, ANPR, POS transaction event monitoring, heat mapping, construction time lapse cameras, as well as being an accredited partner for Facewatch (delivering facial recognition systems).
This year, and throughout the COVID-19 pandemic, being able to provide camera systems to monitor and control the virus has been an essential part of our industry. Heat mapping and thermal camera technology is at the forefront, as well as density control solutions for use in busy areas. Our engineers are specially trained and equipped to provide these essential services.
What is it that makes Astra stand out from the competition?
When clients do business with Astra Security, right from the initial introduction, we guarantee a personal, specialised and professional service which is delivered and managed safely and securely.
We build and maintain strong, long-term relationships based on giving personal service around the clock. We take pride in our reputation and live up to it in everything we do, from designing the initial project to post-installation. Our customers are valued and supported throughout their installation journey and we focus on developing solutions and services which meet their needs.
A key point of difference for customers is that we provide a dedicated account team as we believe that the best way to develop a long-term and successful relationship is with a personal approach. We consider each client to be a partner.
As we are independent of manufacturers, we can be adaptable. Using industry leading technology and suppliers allows us to deliver exceptional quality products at a competitive price.
With a broad section of accreditations to our name – including NSI Gold: Safe Contractor and Constructionline Gold and Cyber Essentials – we have a very high standard of competence in delivery, monitoring, management, and operation of all our security deliverables.
We offer an up-to-date service which is down to having a dedicated internal auditing team who continually plan, review and test processes highlighting learnings and improvements. We also ensure our Senior Account Managers are fully up-to-date with technological developments and that they regularly attend supplier product training workshops to enhance skills. On top of that, they are channelled through the SMSTS course, ensuring they are equipped for health and safety and risk assessments.
Our clients are assured that their data is secure through our comprehensive data management process including GDPR data retention policy, environmental and waste policy.
Our Management Team are involved in the day-to-day running of the business, bringing with them a diverse and applicable skillset that covers all areas of running a successful and forward-thinking business, all in an efficient and professional way.
How does it feel to be named as winners of the Outstanding Security Installer/Integrator award?
I'm so proud of our team for being recognised in this way. Being at the Awards Ceremony as a finalist amongst such high calibre companies who operate and excel within the Security Industry was a great achievement in itself, but then to be announced as 'winner' was amazing.
It's certainly a testament to the hard work, commitment and passion given by our staff and engineers not only over the past year, but really since the business was launched almost 15 years ago.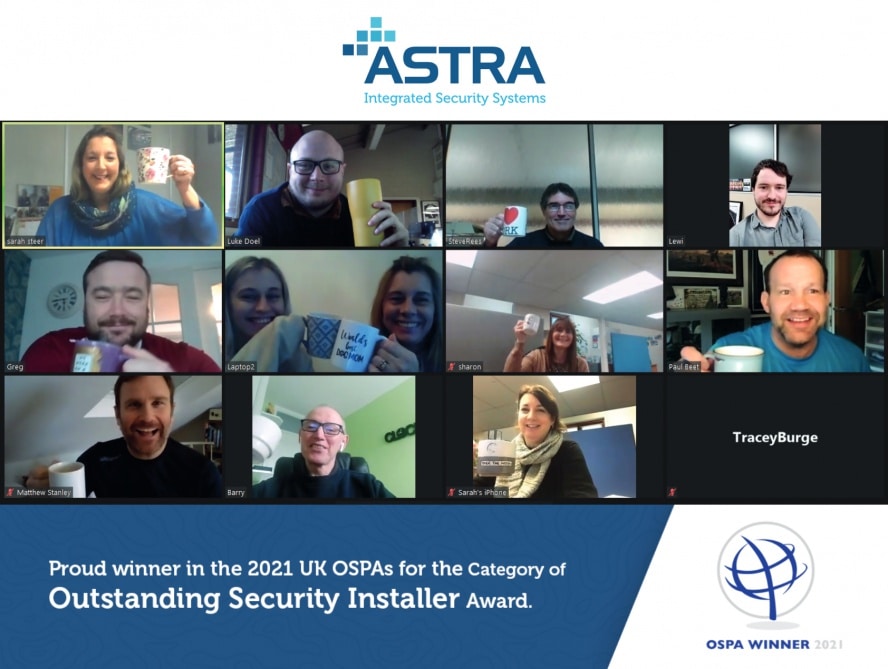 What have been the company's biggest achievements over the last 12 months?
Undoubtedly one of our biggest achievements has been winning this OSPAs award, but outside of that, I'm extremely proud of the way Astra Security has adapted because of the pandemic. We've been more flexible and really pushed the boundaries of innovation. Some of our clients have been forced into challenging situations to manage their security provision and have approached us for extra support and guidance. We have provided solutions quickly, whilst under immense scrutiny.
I believe that working through the pandemic has resulted in us all challenging our business processes and systems, as well as making sure that the health and wellbeing of staff, partners and customers remains a high priority.
Consistently reviewing and learning is an essential part of running a successful and forward-thinking business, which allows you to evolve and move with the times.
What are the common challenges facing companies working in the CCTV and integrated security systems sector?
The biggest challenge that Astra face is keeping up to date with equipment advancements.
As functionality and firmware are constantly being updated by manufacturers, it is important that we work to keep up-to-date with these changes and understand how these developments can help and support our customers. We look to review these developments as they are released and then communicate these to our customers and engineers as regularly as possible. Once a system is updated, we then work hard to provide training and information to our customers so that they can operate the system in accordance with design and specification.
What are Astra's ambitions and goals for 2021?
Whilst 2020 brought unexpected change, Astra Security rose to this challenge.
We are confident we can continue to grow the business and look forward to focussing on delivering to a high standard for all our existing customers, whilst also identifying new opportunities within the marketplace.
We look forward to the future.
To find out more information about Astra, visit: https://www.astrasec.com/